WCH/WMH Chassis Series
Adirondack-Aire WCH/WMH series zerOzone console unit provides environment friendly, high efficiency, cooling and heating where individual, quiet control is a priority. This application specific chassis is a direct replacement for Snyder General WCH series console water source heat pump units. These units are offered as chassis only console units, intended to work with the existing custom enclosure. The WMH series is a chassis only direct replacement for McQuay WMH series, usable in existing cabinet and sub base enclosures. The chassis contains the compressor, air side heat exchanger, water side heat exchanger, evaporator fan and motor, control components and safety components. The WCH/WMH series has 5 chassis capacities (models 08, 10, 12, 15 and 18)
All chassis sizes are dimensionally identical to the original for a fast, easy, and trouble-free installation. Quality components, careful design and testing, and the latest in environment friendly technology advances mean long unit life, user satisfaction, and lower energy costs. Consider the extensive list of standard features, which includes: stainless steel drain pan, refrigerant circuit access ports, evaporator freeze protection, water coil freezestat, high-pressure over protection, anti-short cycle protection and electronic control board. Adirondack-Aire is the replacement solution that the competition can't match. Cold Point Corp. backs the WCH/WMH with a customer friendly one-year parts and labor warranty and five-year compressor warranty, (see Warranty document for details). A full range of options are available.
---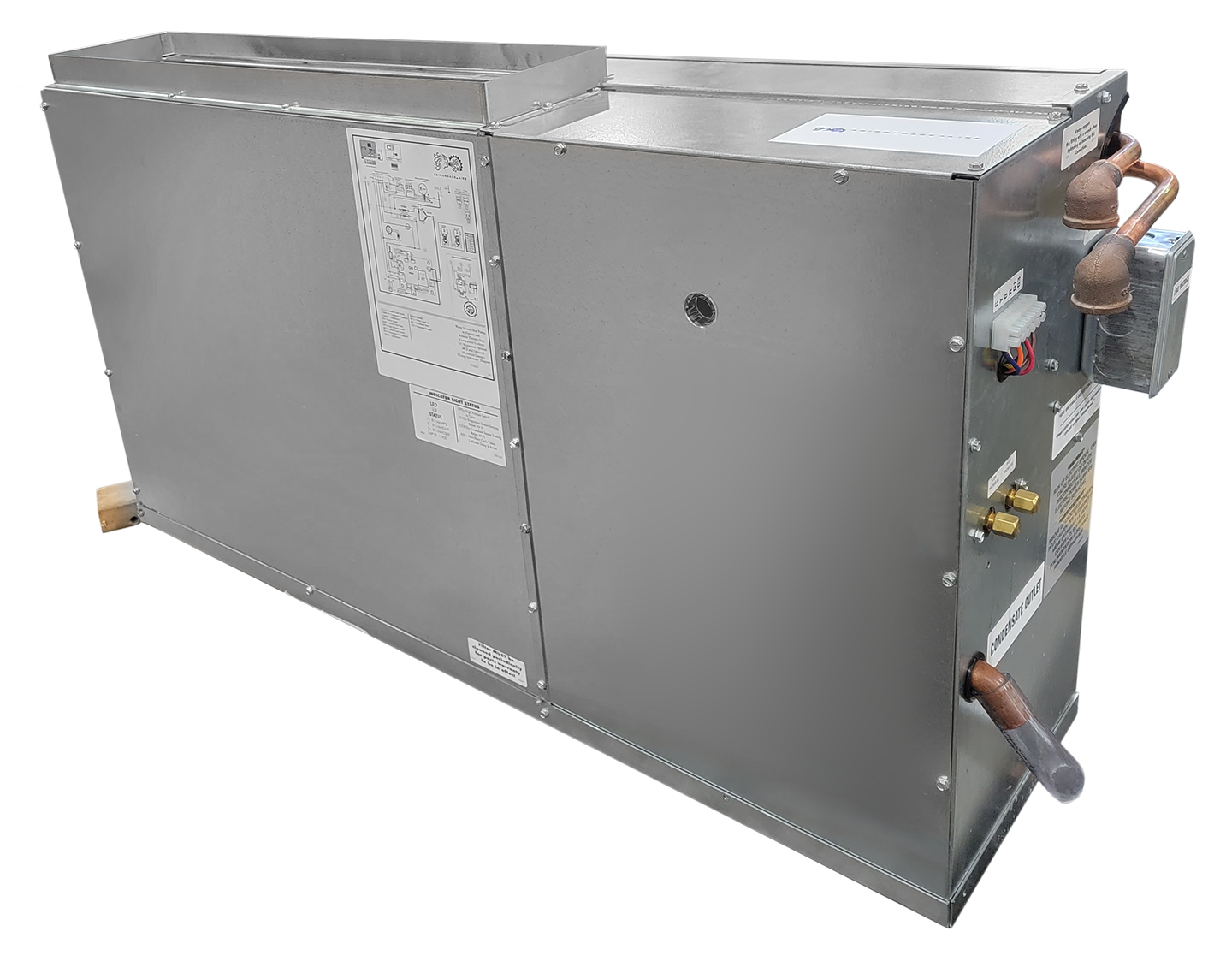 Fast and Easy Replacement
The Adirondack-Aire WCH/WMH series zerOzone replacement chassis fits the existing Snyder General / McQuay room cabinets without modification. Because the WCH/WMH dimensions and construction details are like the original, replacement work is fast and easy. Water, drain and electrical connections line right up to the original installation. Using Adirondack-Aire replacements eliminates the need for room renovation, redecorating, or piping and wiring changes. Whether it's a chassis only application for a custom enclosure, or use in an existing cabinet, the WCH/WMH is the solution that gets your property back in service quickly and at the lowest total cost. Choose the optional room cabinet to give the unit a new look and improve room aesthetics. LH or RH applications must be selected for direct replacements.
Damage Protection
The standard high-pressure switch, evaporator coil freeze protection, and electronic control board stop unit operation before damage occurs, should airflow become reduced or obstructed due to dirty filters, or motor failure. A freezestat protects the water coil from freeze damage due to water temperature or flow problems. The water coil is designed for low water-side pressure drop, eliminating potential pump sizing and water flow problems.
Options and Accessories
• Room cabinet (consult factory)
• Flow control valve
• Control options
• Valves and unions
• Line cords
• Hose kits
• Customer-specified custom features
• Customer-specified custom features
• Low temp option